Buyer handout 3: Using supplier visits to understand the challenges of providing decent work
Every visit to your suppliers is an opportunity to build on your relationship. This will help you understand your suppliers' challenges and how to support suppliers to overcome them.
Build the conditions for dialogue and openness
Building open communication with your supplier will reap benefits.
Treat each visit as an opportunity to build dialogue, not a one-off conversation. Openness and trust are built over time.
If the visit is not part of an audit process, send a clear message on its purpose — if perceived as an audit process, suppliers and workers might be less open to speak about the problems they encounter.
Create a safe space — your supplier will likely be concerned about a possible loss in orders and may not want to admit any problems.
Create the right conditions to discuss decent work expectations. For instance, the "balance of power" will be off in situations such as contract negotiations or price-setting meetings.
Be culturally sensitive in communication — your supplier may operate in a business culture where contributing to decent work is not considered a responsibility of companies. Be clear about the reasons why you are bringing up decent work.
Be open about how you will use the information that is shared with you
Make clear that this is a shared responsibility
Explain how you can support your supplier to promote decent work (through trainings, hotline, etc) and ensure these are available
Demonstrate respect – listen, be mindful of your tone, separate the person from the problem
Role-model the behaviours you expect from suppliers
Show curiosity and ask questions
Use your position, supported by examples of what your company and others are doing, to counter-cultural and peer pressure barriers
Observe
When you visit a supplier warehouse or factory, look around to build a picture of the working conditions there. Your observations can give you some clues about the prevailing working conditions. At the same time keep in mind that observations on a particular day may not be fully representative. The questions below will help you build insights and have more meaningful conversations with your supplier about what is actually going on and how it can be improved. Note that they will help you observe as you walk around – they are not intended as a substitute to record checks you may be conducting, e.g. on working hours, workers' ages, etc.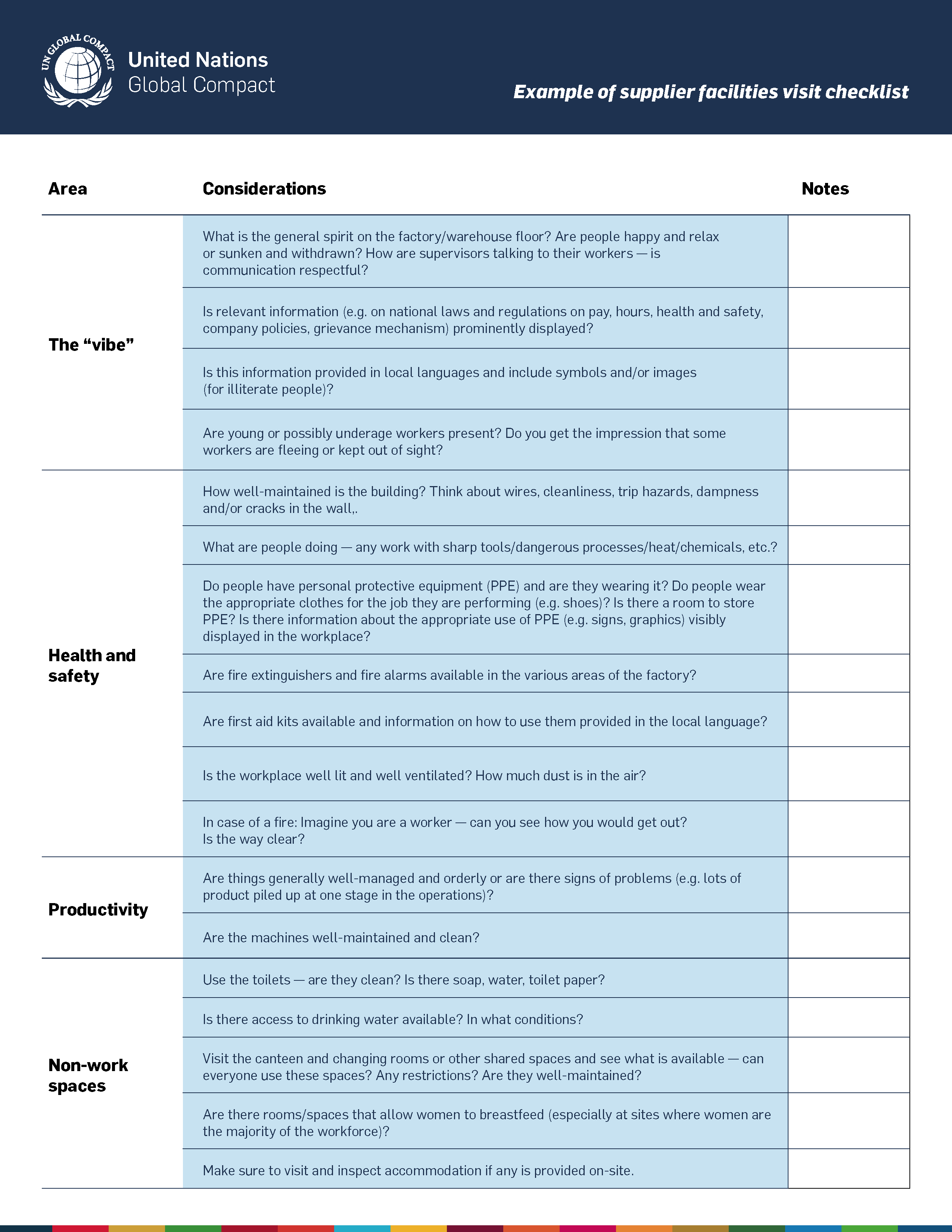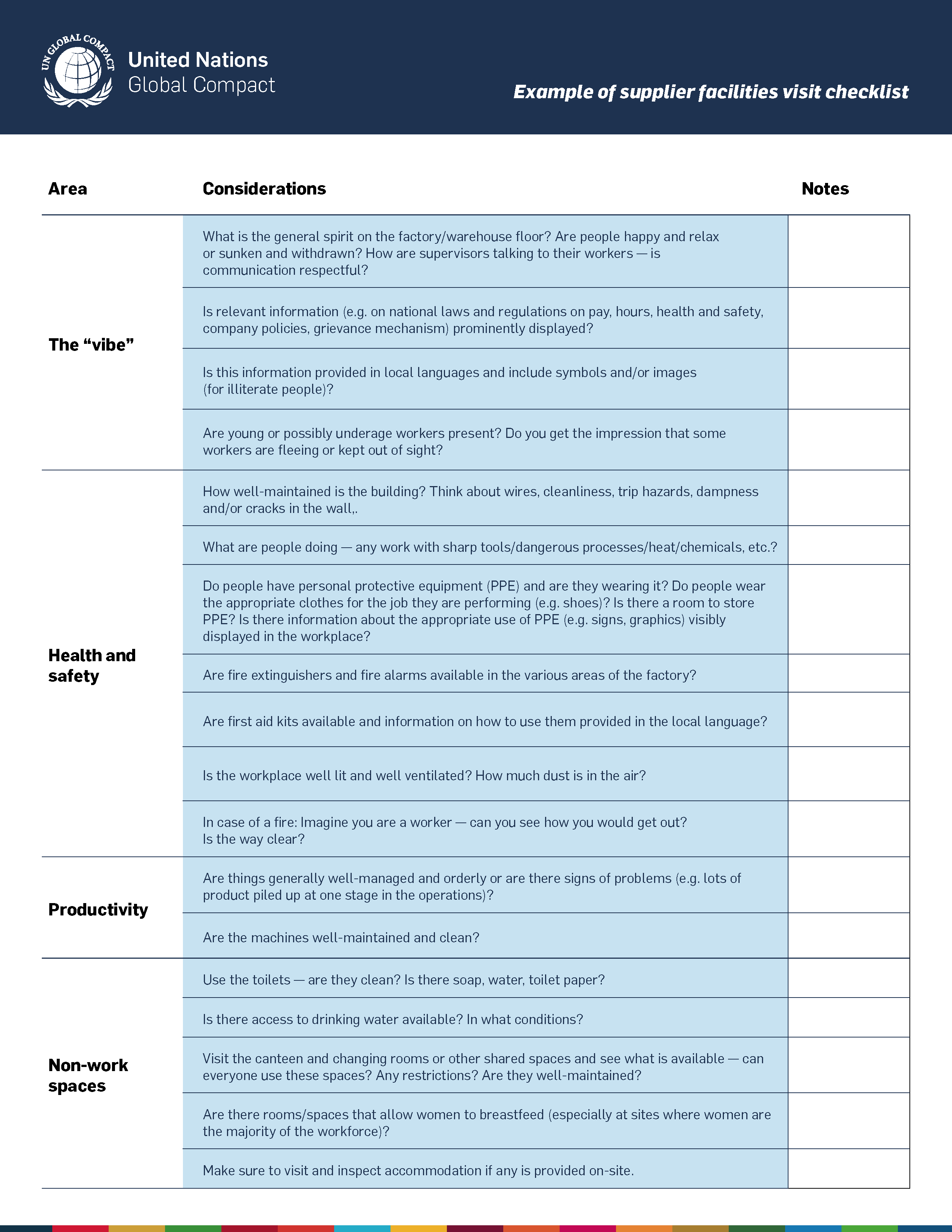 What to do with these insights and information?
Encourage and support suppliers' good practices

Give them feedback and acknowledge the continuous improvement from the suppliers' side.
Encourage them to continue building on their positive efforts.
Consider developing a list of good practices over time that you can share with other suppliers so that they know what is possible and how others approach certain issues.

What did you learn about the resilience of the operation? What does this say about your supply chain? What role does decent work play in this?

Track issues and insights observed: root causes, whether suppliers are addressing them and how they are doing so – and if they are not, why this might be and how it can be remedied.
Who in your company needs to be aware of this? How can this be communicated effectively so that continuous improvement is possible?

If you have concerns:

Ask sensitively about what you have observed. What is behind the issues – why are they occurring, what are the drivers? What if anything is the supplier doing about them? What would help them improve the situation?
Raise your concerns with your company management so a more in-depth auditing process can be started and a long-term plan can be discussed on how the situation could be improved.

Identify what other functions in your company are connected to your concerns. Bring people around the table to discuss them together. Bringing other stakeholders in this discussion could be helpful.